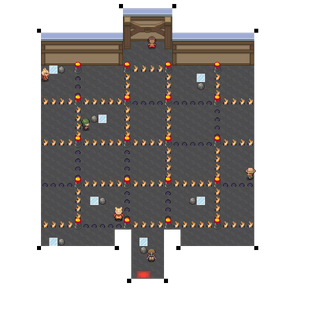 The Amatree Town Gym is the fifth gym challenge on your journey through the Tandor Region. It is the home of Gym Leader Tiko, who specializes in Fire-type Pokémon; all the better for chasing the bugs away.
The Gym
Deeper Anthell
Main Article: Anthell
When you first arrive in Amatree Town a local elder, in front of the gym will tell you that Tiko has left town to train deep in the depths of Anthell, a giant Bug nest deep underneath Route 10. The elder says that Tiko's been gone for a while and challenges you to find him - as part of your gym challenge, of course. He gives you the Bug Spray, which can be used to get rid of the swarm of Bug Pokémon blocking your path to the Deeper Anthell. The player must then enter the dungeon to rescue Tiko before they can enter his Gym.
Tiko's Gym
Tiko's Fire-type gym is located in an ancient ruin covered with vines, whose interior has been converted into a massive dance floor. Tiki torches block your path, and you have to have careful steps to navigate through to the Gym Leader. Along the way are Tiko's understudies, skilled in both battle and dance. They use mainly Fire-types, with some Bug-types as well.
Reward
Trainers
Trainer

Pokémon

Pyromaniac

Din




Reward:

1700

Bug Catcher

Raymond




Reward:

544

Cooltrainer

Sora




Reward:

2040

Pyromaniac

Wally




Reward:

1700
| | |
| --- | --- |
| | |
| 3800 | |
Community content is available under
CC-BY-SA
unless otherwise noted.