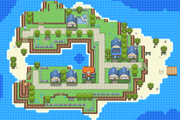 Angelure Town is a location that is currently not available in Pokémon Uranium. Prior to Beta 4.0, this was planned to be the 8th Gym town. However, its role as the 8th gym town has since been replaced by that of Tsukinami Village and it has been changed to a planned post-game town.
Angelure Town is a maritime town with a large bay filled with boats. It's known for its fishing contest and being a not-so-secret haven for pirates.
Places of Interest
Fishing Contest

- Compete to catch the best Water-type Pokémon within the time limit.
In other languages
Language

Name

English

fillertext

Angelure Town

fillertext

Spanish

fillertext

Pueblo Celesebo

fillertext