Gameplay Notice

You can download Pokémon Uranium here
Pokémon Uranium Features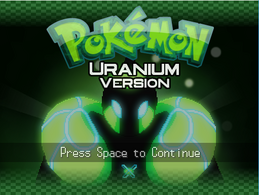 8 gyms, 13 towns and 6 optional Sidequests
More than 190 Pokémon species to be caught, with many new and returning ones
GTS, Wonder Trade and Virtual Trainer
Custom Game Modes such as Randomizer and Nuzlocke
The Poké Radar, a tool to search for special Pokémon
Battle or trade with your friends in the Lobby
Multiple Save Files
Changelogs and Installation
Official Patch Notes: Patch Notes
Standard Install location: C:\Program Files (x86)\Pokemon Uranium Team\Pokémon Uranium 1.0
Save file location: %USERPROFILE%\Saved Games\Pokemon Uranium (Paste into explorer or Windows Search)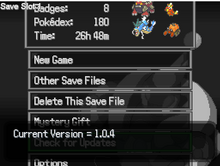 You can verify that you are running the current version of the game by clicking on the 'Check for Updates' menu option in the main menu. If you are on the vanilla releases (version 1.0 and 1.0.1) you will need to re-download the game from the link above or follow the redirection instructions here.
Previous Versions
Community content is available under
CC-BY-SA
unless otherwise noted.