World of Warcraft: Dragonflight - The Loop
Play Sound
Intimidate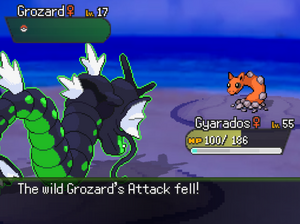 [[File:|center]]
Lowers the opposing Pokémon's Attack stat.
Intimidate is an ability introduced in Generation III. So far, 18 Pokémon have this ability, making it the most common ability in Tandor.
Effect
In battle
Intimidate lowers the opponent's Attack stat by one stage upon entering the field. (unless it has Clear Body or Hyper Cutter) It affects all opponents in Double Battles but will only affect adjacent opponents in Triple Battles.
Outside of battle
If a Pokémon with Intimidate is the leading party Pokémon (even if fainted), wild Pokémon are 50% less likely to be a lower level.
Pokémon with Intimidate
Normal Ability
Hidden Ability
Trivia
All Pokémon that have Intimidate as a Hidden Ability are part Dark-type.
See also