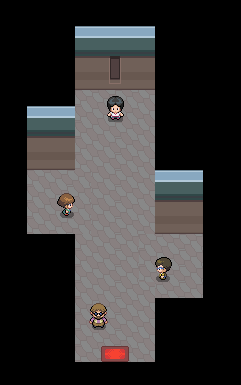 The Nowtoch City Gym is the first gym you will visit in the Tandor Region. It is the home of Gym Leader Maria, who specializes in Normal-type Pokémon.
The Gym
Simple, straightforward, and no-nonsense; in a word: Normal. Like the rest of Nowtoch City, Maria's gym has no frills, bells, or whistles; it's just a gym, there are some trainers, people come to battle, and then Maria goes back to doing anything else she can do besides being a gym leader. The Nowtoch City Gym has a single gray-tiled corridor with two small enclaves on either side where Maria's Junior trainers will challenge you, but if you wanted to, you could, you know, just go around them.
Maria and her junior trainers use the same Normal-type Pokémon you can find on Route 1 and Route 2.
Reward
Trainers
Trainer

Pokémon

School Kid

Jack




Reward:

180

Lass

Myla




Reward:

240
| | |
| --- | --- |
| | |
| 1200 | |