Radioacid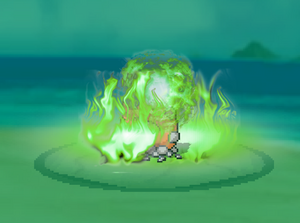 [[File:|300px|center]]
Type

 Nuclear

Category

 

Special

Power

 

60

Accuracy

 

100%

PP

 

15

(max. 24)

Priority
 

{{{priority}}}

The user shoots a powerful blast made of radioactive waste. It may cause a burn.

Does not make contact

Affected by Protect

Not affected by Magic Coat

Not affected by Snatch

Not affected by King's Rock
Target
Foe

Foe

Self

Ally

May affect anyone but the user
This move was created for Pokémon Uranium
Radioacid is a damaging Nuclear-type move introduced in Pokémon Uranium. As a Nuclear-type move, it can only be learned by Nuclear-type Pokémon, with the exception of learning through Sketch.
Effect
Radioacid deals damage and has a 30% chance to burn the target.
Pokémon that learn Radioacid
By leveling up
By Nuclear Form
Trivia
Prior to 1.1, Radioacid would make contact.