Rain Dance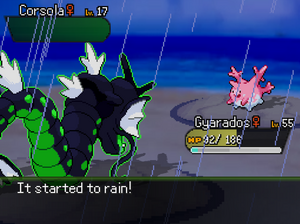 [[File:|300px|center]]
Type

 Water

Category

 

Status

Power

 

—

Accuracy

 

—%

PP

 

5

(max. 8)

Priority
 

{{{priority}}}

The user summons a heavy rain that falls for five turns, powering up Water-type moves.

Does not make contact

Not affected by Protect

Not affected by Magic Coat

Not affected by Snatch

Not affected by King's Rock
Target
Foe

Foe

Self

Ally

Affects all Pokémon on the field
Rain Dance is a Water-type Status move. It is TM18, found on Route 14.
Rain Dance summons Rain onto the field. This effect will last for 5 turns (8 if the user is holding a Damp Rock), including the turn it was used. This clears any other type of weather.
While Rain is in effect:
Pokémon that learn Rain Dance
By leveling up
Via TM
Community content is available under
CC-BY-SA
unless otherwise noted.