Raise a Floppa - The Loop
Play Sound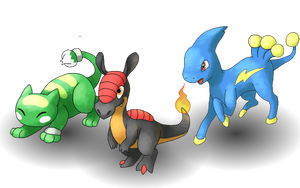 As with almost all Pokémon games, Pokémon Uranium gives the player a choice of one of three Starter Pokémon at the beginning. They are given to the player by Professor Bamb'o after the player takes a Pokémon Trainer Test. The available starter Pokémon are Orchynx, a Grass- and Steel-type, Raptorch, a Fire- and Ground-type, and Eletux, a Water- and Electric-type.
The starters in Uranium are different from the starters in the main series Pokémon games in that they each evolve only once. Additionally, each has 2 types rather than one, allowing for more strategy. The reason for this divergence is to augment the difficulty and uniqueness of the game.
Evolutions



Level 28


→



Mega Evolution


→



Level 29


→



Mega Evolution


→



Level 27


→



Mega Evolution


→
Comparison of Base Stats
First Stage
Second Stage
Mega Evolution
Theo's Starter
The player's rival, Theo, also receives one of these starter Pokémon from Professor Bamb'o. However, unlike the official Pokémon games where the rival always receives the starter with a type advantage, Theo's starter always has a type disadvantage to the player's starter. If the player gets Orchynx, Theo gets Eletux; if they get Raptorch, he gets Orchynx; and if they get Eletux, he gets Raptorch.
Upon realizing that he has the weaker starter, Theo starts to cry and runs out of the lab, complaining about how it was unfair. However, Professor Bamb'o reassures the player that Theo is simply young and easily upset, and that they shouldn't judge him too harshly.