The Tandor Underground, a newly developed inter-city rail system in West Tandor, allows travelers to quickly zip between the region's major city centers: Nowtoch City, Burole Town, Bealbeach City, and Legen Town.
You will encounter the Tandor Underground for the first time at Nowtoch City; at the time, the rail system is still under construction and aren't ready for travel. Once you reach Legen Town on your journey, construction is finished and you can freely take the rail for

250 per trip. Tickets can be bought in multiples. T.U.R Tickets are required to ride each time and can be purchased from an NPC inside of each station. Only locations that have subway stations can be accessed by this system.
Talking to the NPC by the train will allow you access to the train. If you do not have a ticket, the dialogue will loop if you select a destination. You must exit the dialogue and buy a ticket before you will be allowed on the train.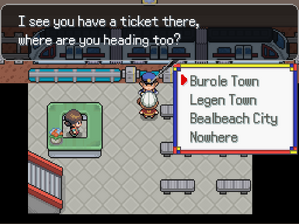 When you have a ticket, the NPC will say the following: (typo is in game)
"I see you have a ticket there, where are you heading too?"
The player's choices will be displayed as response options. If you would like to cancel and stay where you are, select "Nowhere" or hit 'x'.

Each station follows the same general layout.
First Floor
A small waiting room at the ground level with a stairwell to the rail platform.
Rail Platform
You can purchase tickets or get information from at the counter, and once you have a ticket in hand, take it to the train conductor who will ask you where you want to go. Each ticket is good for a single one-way trip to the destination of your choice.
Locations 
Legen Town Subway 
Located on the upper-most terrace west of the path heading to the Pokemart. Also includes train to the Championship Site
Nowtoch City Subway
Located at the top of the city, between the Pokecenter (on its right), and the Gym (on its left).
Burole Town Subway 
Just before taking the east exit sits the Burole Town Subway.
Bealbeach City Subway 
The Bealbeach City Subway is located near the eastern body of water to the right of the Pokemon Center.