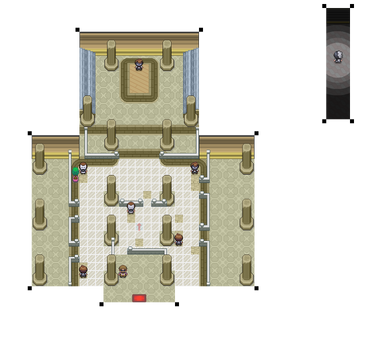 The Venesi City Gym is the sixth gym the player will visit in the Tandor Region. It is the home of Gym Leader Rosalind, who specializes in Pokémon that are known for trickery and illusion, including Psychic, Ghost, and Fairy-types.
The Gym
The Sliding Human Puzzle
There is trickery afoot in the Venesi Gym. Trap doors and a slick and slippery floor send you skidding back and forth across the gym floor. As you make your way around the gym, the Venesi Gym junior trainers will challenge you to battle.
Leader? Iago
What's this? This doesn't look like a gym leader? As part of the air of mystery surrounding the Venesi Gym, Rosalind has planted a false gym leader: Iago. Upon defeating Iago, you will fall through a trap door into the hidden passages beneath the stage. NOTE: Make sure to get lots of Revives and Hyper Potions, because as soon as you defeat Iago, you can't go back to heal.
Gym Leader Rosalind
As a little girl, Rosalind dreamed of the passion and excitement of the stage, but theater was the domain of men, and women were not allowed to perform. Undeterred, Rosalind disguised herself as a man and quickly rose to stardom. Once she had thoroughly proven her acting chops - and that a woman can act just as well as a man - she threw off her disguise mid-performance before a stunned crowd. Shortly thereafter, women were allowed to perform on stage. Rosalind is a brilliant actress and a master of disguise. She loves how the stage can, for at least a moment, suspend reality in its illusion, much like the Pokémon she chooses for battle.
Reward
Trainers
Trainer

Pokémon

Actress

Cecilia




Reward:

3200

Actor

Caruso




Reward:

3200

Actress

Adelina




Reward:

3200

Actor

Bocelli




Reward:

3200

Actor

Pavarotti




Reward:

3200

Leader?

Iago




Reward:

3780
Rosalind has three Hyper Potions.
| | |
| --- | --- |
| | |
| 4950 | |
Trivia
In Shakespeare's Othello, Iago is a trusted adviser to Othello who has fought alongside him for years. Secretly, Iago hates Othello and trys to ruin him by making him think his wife, Desdemona, is having an affair. While Leader? Iago is not a manipulative villain, he is, like Othello's Iago, not what he at first appears.
The names of the other trainers all come from famous Italian opera and classical singers: Cecilia Bartoli, Enrico Caruso, Adelina Patti, Andrea Bocelli, and Luciano Pavarotti.
Rosalind is named after a character from the play As You Like It, a clever young woman who disguises herself as a man. That play is also the origin of the "all the world's a stage" quote that Rosalind says before battle.
All of the trainers and the Gym Leader's before-battle quotes are directly from, and/or references to, various Shakespeare plays.